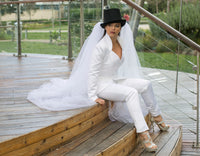 Stunning Wedding Dresses
Have your bridal gown handmade for you exclusively, using the finest fabrics and the care and attention to make you the perfect dress., You will feel like a million dollars on your special day.
Shop now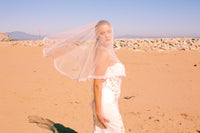 Bespoke Wedding Veils
Ever had an idea in mind for your wedding veil, but cant seem to find it? We can create that exclusive wedding veil just for you. Just contact us with your preferences and we shall make you ideas come to life for your special day.
Contact us
AttraXioné
AttraXioné brand by Dorcas Hammond. soley with exclusive garments and limited editions, ladies will be able to wear her exquisite designs for the first time in a ready to wear collection.
Shop Now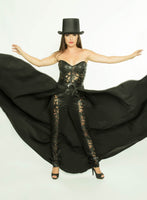 Exclusive Bespoke Pieces
Dorcas Hammond Couture can create exclusive one of a kind pieces, for those extra special moments
View
Dorcas Hammond Couture
Dorcas Hammond, International fashion designer with over 20 years experience in making bespoke gowns, wedding dresses, pagent gowns, is now launching her wedding dress collection to sell worldwide. Her gowns are different to the rest and can be made in other colours including black.

With quality fabrics and being handmade with care and attention, Dorcas's gowns are the best you can ever wear for that special day.

Because it is being made for you... you can ask for some changes in your dress and she will try as much as possible to create the perfect dress for you, making you feel like a princess.

Because we understand that buying a dress online, is quite daunting, especially for the occasion it is, we can make you a small toile for you to see the fit, before you make the decision of buying. This toile would cost you £100 and should you go ahead with the purchase, it would be deducted from the total cost.

With a delivery time of 6 to 8 weeks, its not too long a wait for that special dress. If you need it urgently, if possible we can have it before that, with an extra 20% surcharge

Packaged with care and delivered by DHL you know you will get you dress in time and secure with no shipping costs at all.

Because these gowns are specifically made for you, we are unable to accept returns. The only returns accepted are: If the gown is not the design or colour you asked for, if it is broken upon delivery and if it is not the size you ordered.

If you have any questions please email me and I will be happy to resolve any doubts you may have.

Dorcas Hammond